Our CBD Topicals are infused with a variety of essential oils for added health and wellness benefits. Many customers experience great benefits for things like arthritis, muscle soreness, skin conditions, etc.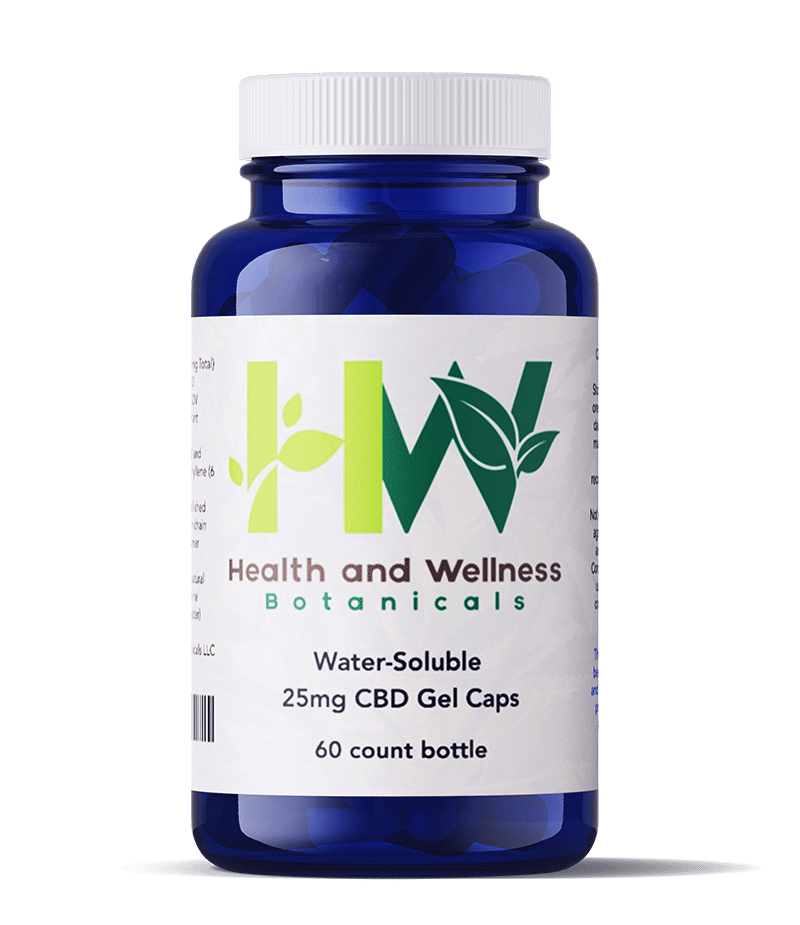 CBD Edibles are a discreet and convenient method of ingesting your daily dose. Shop Water-Soluble Gel Caps for those tough days & fruit chews for on-the-go!
WHAT ARE CBD TOPICALS
CBD, also known as cannabidiol, is a non-psychoactive component extracted from the hemp plant and the extracted oil can be used in many different applications. CBD topicals are any products that are applied topically, anywhere on the body, as opposed to being ingested or vaped.  CBD topicals are a great way to target specific areas of the body where CBD relief is most needed.
Health and Wellness Botanicals CBD topicals also contain many other beneficial ingredients that further enhance our products' quality and benefits.  Our extensive selection of topicals include muscle gel roll-ons, balms, lip balms, facial creams, massage oils, oil roll-ons, bath bombs, and sugar scrubs.  Everything you need to easily incorporate high-quality CBD into your daily health and wellness regimen.
HOW TO USE CBD TOPICALS
The way in which you apply or use your CBD topical will depend on the specific products you choose but are generally applied directly to the area in which you would like to experience relief from inflammation, discomfort, and pain.
CBD roll-ons are a convenient, mess-free way to apply CBD right where you need it.  Many of our roll-ons are also formulated with essential oils and other beneficial ingredients that will heat or cool the area on which you roll Health and Wellness Botanicals CBD roll-ons.
CBD massage oils and creams can be directly applied to areas that are sore, inflamed, or uncomfortable for targeted relief.  CBD bath bombs enhance the relaxing and soothing effects of a bath.  CBD sugar scrub can be used while bathing or showering to exfoliate and remove dead skin cells, leaving behind soft, moisturized, soothed skin.
Health and Wellness Botanicals CBD topicals can be used externally as a part of your daily health and wellness regimen or wherever you would like soothing relief from aches, pains, and inflammation.  It is best to store your CBD health and beauty products in a cool, dry place.
WHY USE CBD TOPICALS
There is an explosion of CBD topicals in the marketplace because there is research, as well as countless anecdotal reports of the potent benefits of high-quality CBD. But, the market is now flooded with CBD products that are not high-quality or lab tested to ensure they even contain what they say they do.
Health and Wellness Botanicals CBD topicals are formulated with our top-quality, lab-tested CBD. Our products contain cannabinoids that come from organic hemp sourced from Colorado. Because it is organic, the hemp was grown without fertilizer, pesticides, herbicides, GMOs, or other chemicals.  Not only do we start with the best hemp, but we maintain the highest quality throughout the extraction process using only the best CO2 equipment to extract CBD from the hemp material.
Though the use of CBD topicals cannot be guaranteed to treat a particular ailment, symptom, or condition, our customers have experienced the powerful benefits of Health and Wellness Botanicals CBD products including a sense of relaxation, stress relief, anxiety relief, reduced inflammation, insomnia relief, and more.
CBD TOPICAL FREQUENTLY ASKED QUESTIONS
Answers to common questions about CBD Topicals.
Sign Up For Our Newsletter!